Players are rewarded for logging into the game. The Design Goals for the Daily Login Reward System were[1]:
To encourage players to log in and enjoy Firefall every day.
To provide a progression of rewards, so that consecutive daily logins are even more rewarding!
To provide bonuses that help players get into the game and keep playing.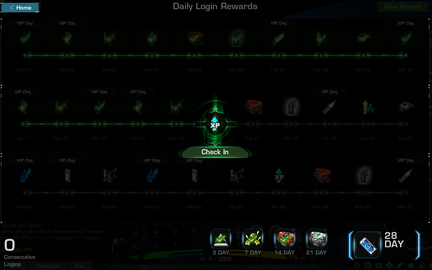 Daily rewards are random among the following list:
Reputation Boost Consumable - 20% for 1 hour
XP Boost Consumable - 20% for 3 hours
Rare Armor Cache
Battleframe Parts
Flare (Red)
Crystite Boost Consumable - 20% for 1 hour
Sonic Detonator
Crystite
Key Fragment
Consecutive Logins
Edit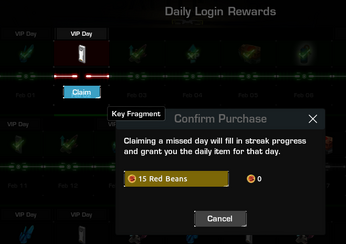 Extra rewards are given to players who keep a login streak:
3 Days: 1-Use Glider Pad Calldown x5
7 Days: XP Boost Consumable - 100% for 3 hours
14 Days: Rare Module Cache x2
21 Days: Epic Ability Cache
28 Days: Security Key x5
If one misses a day and wants to keep his login streak, there's an option to spend 15 Red Beans and claim the missed daily reward.
References
Edit
Ad blocker interference detected!
Wikia is a free-to-use site that makes money from advertising. We have a modified experience for viewers using ad blockers

Wikia is not accessible if you've made further modifications. Remove the custom ad blocker rule(s) and the page will load as expected.