This article contains speculation, information which has not been confirmed by a reliable source. The game is still in development, and all information is subject to change.
The Assault rifle is currently the stock secondary weapon for the Assault, Medic, Engineer, and Dreadnaught and is capable of taking out most hostile creatures Battleframes.
Assault Rifle Base Stats

Projectile Speed

Fast

Damage

40

Accuracy

Good

Magazine Size

32

Projectile Range

Medium

Rate of Fire

Fast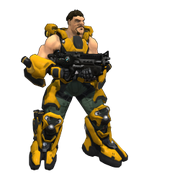 - The Assault rifle is a secondary weapon, and thus is weaker than dedicated primary weapons.
Ad blocker interference detected!
Wikia is a free-to-use site that makes money from advertising. We have a modified experience for viewers using ad blockers

Wikia is not accessible if you've made further modifications. Remove the custom ad blocker rule(s) and the page will load as expected.